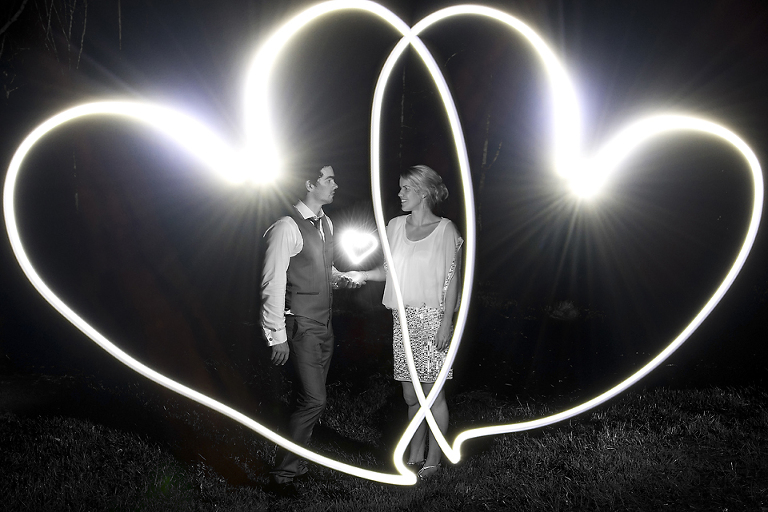 Instructions for creating the best wedding sparkler shots!
by Melanie McNiven Portraits
Planning a 'creative'  night shot for your wedding photography is not only a fantastic inclusion to your images, it also gives you an opportunity to step outside during your reception, stealing a moment to yourselves.
It could be the biggest challenge of your day, to draw your perfect shape or word with sparklers. Remember, these shots are done after dark so if you've already had a toast or two or three, it can certainly create some laughs. If it all seems too much, you can always ask me, as your photographer, to complete the drawing for you! In a night shot, it is possible to have someone walk in and out of the picture without being seen in the final image. I've had some peculiar looks from passers-by when they see me flinging here and there with torches and sparklers around  a couple.
When I am photographing for clients, I pre-test the shot before asking the bride and groom to help create their special image. A night shot can take five to ten minutes to perfect, but for many couples this light hearted time together is a treasured memory of the night. The night shots you see on my website are achieved in camera without photoshop manipulation. If you plan on drawing your own shapes with light, it may take a few practice runs to get  it right. Some of you may nail it first go!  Practice now with the sparklers from your bridal show packs and it will give  you a head start on the night. Rest assured, I am always practicing my drawings behind the scenes, so I can step in if need be. Here are some instructions to help you prepare.
How to draw a love heart with sparklers on your wedding day!
Step One: Decide on a pose. It will need to be one that you can hold for a while, without moving your bodies (apart from your sparkler arm). Hold hands, freeze in a kiss or just look straight at the camera. Be creative…This is a great opportunity to listen to each other's suggestions, practicing your future relationship negotiation skills (ha ha).
Step Two: Practice your shape before your sparkler is alight. To draw a love heart, stand side by side with your sparklers touching in the centre of your bodies (see illustrations below). Draw half a love heart each, starting at the top peak and joining down the bottom of the love heart.
Step Three: Wait for the photographer/assistant to light your sparklers and press the shutter.  You will have a number of seconds to complete your shape.
Step Four: If your photographer requires you to draw for longer than a few seconds, keep drawing back over the same shape you have just drawn, meeting each other's sparkler every time.
These animations will help…
The bride can draw…

The groom can draw…

And together you draw…

Please Note:  Sometimes flash is required to freeze you in the frame. I will give you instructions about this. For now just enjoy practicing different shapes or writing so your shot can be perfect! Remember, if you are writing a word such as LOVE, you will need to write the mirror image right to left.
I hope you have a lot of fun and laughs practicing and coming up with your ideas! It will be sure to make a WOW shot to remember of your special night. Let me know how you go @ www.facebook.com/pbmel or comment here.